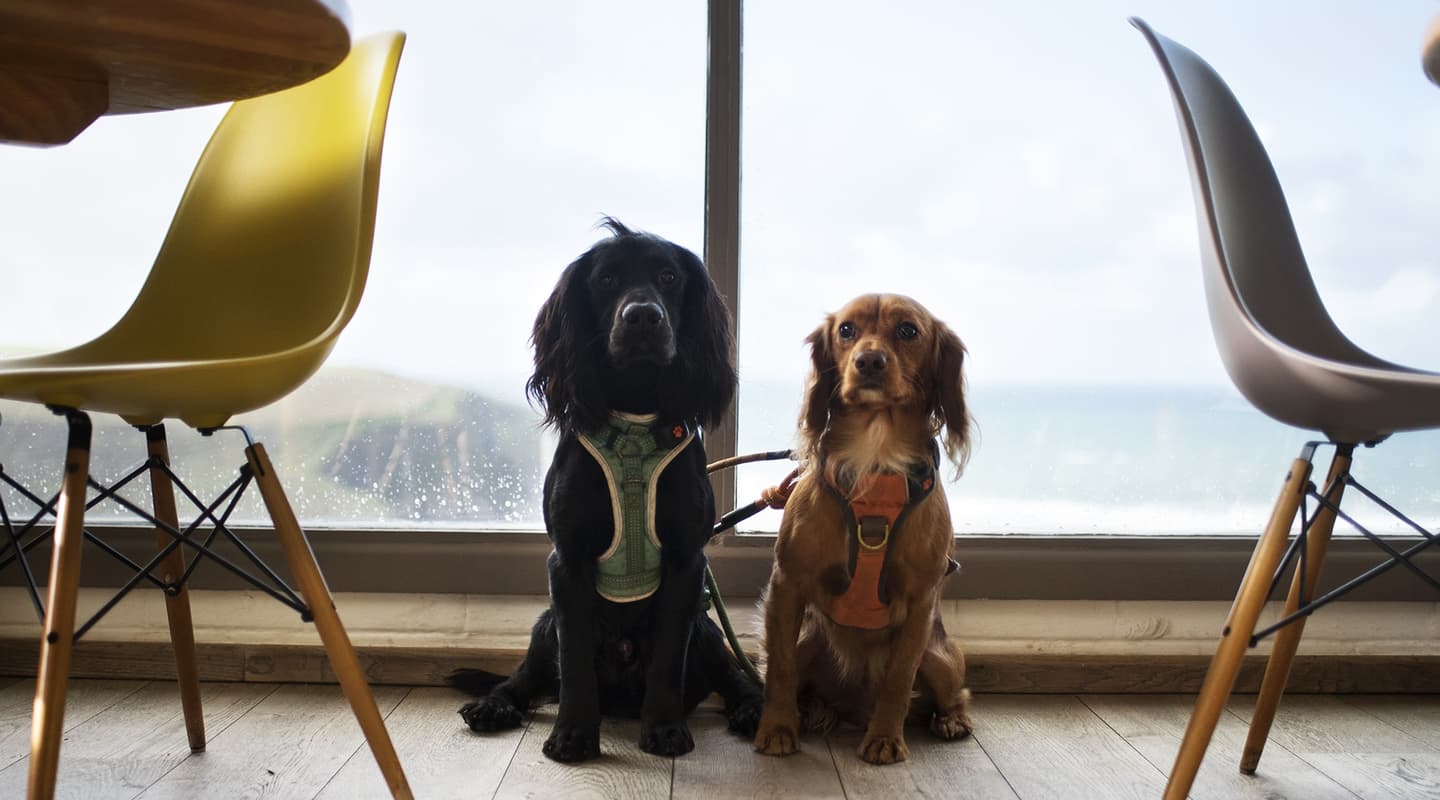 Dog-friendly holidays in Cornwall
"To work like a dog." There's a reason that phrase exists. And it's because being a dog is an exhausting business. But don't worry. At Bedruthan — the friendliest of dog-friendly hotels in Cornwall — your loyal companion can get the rest they deserve.

If planning to stay with a dog, please contact our reservations team directly prior to making your reservation.

In order to make sure that all of our guests (furry and not so) have a wonderfully relaxing stay we do have a maximum occupancy. Therefore, we do recommend getting your pooch booked in sooner rather than later.
We do ask that your four-legged friends stay on their leads whilst inside and around the hotel. Our pools and children's play areas are also only for humans.
Please note that we are only able to accept small and medium size dog breeds.
let sleeping dogs lie-in late
A few extras for your room
Dog tired? Many of our rooms can be outfitted with a few extras, allowing dogs to rest and restore. Once we have got your pup booked in we'll make sure your room is prepared with a dog blanket, thick towel and two bowls.

Price £15 per night for a dog.

If you're allergic to dogs, we have rooms that remain dog-free. Please contact our reservations team to discuss further.
From here, dog-friendly Mawgan Porth beach is just a short stroll down the sandy paths.
For a full day's walk, the South West Coast Path tracks right by Bedruthan. (Keep going until all legs are tired out.) And in case the walk was muddier than expected, you'll find an outdoor washing station on return home.
Places to put your paws up
Dogs are welcome in our cocktail bar, Ballroom and the Wild Café. Please keep dogs on leads around the hotel and off the furniture.
Whilst we do understand how comfy our human beds are; we must ask that any of our four-legged friends refrain from using these beds and furniture and instead use the cosy dog beds provided.
If your pup fancies a dip to cool down, we recommend a salty splash in the Mawgan Porth waves, as dogs are welcome on the beach all year round. We ask that our pools and children's play areas are left just for humans.
The Wild Café is open to well-behaved dogs. Many of our team are also dog owners themselves — they will happily tell you about their favourite dog-friendly restaurants, cafes and bars in the area.